LMLK Home
Biblical Accounts
NonBiblical Accounts
Theories
HBRN
MMST
SUKE
ZYF
Generic
x (cannot classify)
2-Top
2-Divided
2-Undivided
4-Cursory
4-Lapidarist
Jars
Personal Seals
Incisions
Paleography
Typologies
Corpus
Stratigraphy
Geography
Displays
Publications
Credits
Updates

Gibeon information is unusable on the Stratigraphy page since all but a few of the handles were excavated from a pool (rock-cut, circular, about 11.5m (38') in diameter with a spiral staircase carved into its side; see photo at the bottom of this page) where seal types from different chronological periods may have been mixed; however, if the pool was filled in a relatively consistent manner over a long chronological period (~100 years for example) instead of being filled all at once or sporadically, then it may resemble a stratigraphical time capsule for dating the LMLK seal types. In the 3-dimensional graph below, a clear distinction in seal types can be seen between handles found above/below ~8.3 meters (the probable time period of Sennacherib's campaign). Also note the following points:
An "MSH" handle was found at a depth of 2.3m
Jars inscribed with "GBON" were found in the 4.6m-7.6m range.
LMLK handles found in the Pool depth range 0.5-3.0m correspond to post 7-B strata (Division 1 in the graph below)


LMLK handles found in the Pool depth range 3.5-8.3m correspond to the 7-B stratum (Division 2 in the graph below)

Note:&nbsp The 7.8-8.8m range contains the most overlapping of LMLK types.
LMLK handles found in the Pool depth range 8.3-13.5m correspond to the 8-A stratum (Division 3 in the graph below)

Note:&nbsp Seven handles with personal seals were found in the 6.5m-11.8m range.
Two S2DR handles (ID# 532 & 541) were found at 9.8-10.3m but they are not included anywhere on this page since none are listed on the Stratigraphy page & it is uncertain whether they belong to the x2D, x2T, or some other rare series of LMLK seals


Note: The spiral staircase goes down to about 10.7m (35') at a small platform, but the total depth of the pool is about 25m (82').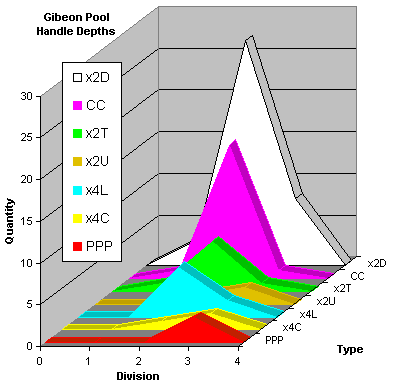 Note: In the graph above, the X-axis represents theoretical divisions centered around the key depths of 4.6m & 8.3m. Rows in the chart below are sorted & colored the same way they are on the Stratigraphy page assuming similar chronological divisions. Although handles with concentric circles (CC) but without LMLK impressions are included in the graph above, they are not listed in the chart below. PPP data represents LMLK pithoi handles; all the others are Type 484.
| | | | |
| --- | --- | --- | --- |
| TYPE | ID# | DEPTH | INCISIONS |
| G2T | I.918, 62-30-1140 | very shallow | Plus Mark |
| G2T | 75, S.5, 60-13-49 | 0.5m | Circles |
| | | | |
| H2D | 253, S.56, 60-13-108 | 2.1-3.0m | |
| M2D | 105, S.21, 60-13-104 | 1.42m | |
| M2D | 106, S.22, 60-13-89 | 2.5m | |
| | | | |
| x2U | (none) | | |
| | | | |
| x4L | (none) | | |
| | | | |
| x4C | (none) | | |
| | | | |
| G2T | 412, S.149 | 6.5-6.6m | Circles |
| G2T | 414, S.151, 60-13-116 | 6.5-6.6m | |
| G2T | 453, S.166, 60-13-117 | 6.6-7.3m | |
| Z2T | 79, S.9, 60-13-103 | 4.0-4.3m | |
| Z2T | 481, S.184, 60-13-120 | 7.3-7.6m | |
| Z2T | 501, S.199, 60-13-123 | 7.8-8.3m | |
| | | | |
| H2D | 318, S.88, (lost) | 4.6-5.0m | Circles |
| H2D | 337, S.91, 60-13-112 | 5.0-5.3m | |
| H2D | 356, S.104, 60-13-47 | 5.3-5.8m | Circles |
| H2D | 397, S.134, 60-13-82 | 5.8-6.5m | |
| H2D | 411, S.147, 60-13-46 | 6.5-6.6m | Circles |
| H2D | 416, S.153, 60-13-83 | 6.5-6.6m | |
| H2D | 456, S.169, 60-13-84 | 6.6-7.3m | |
| H2D | 457, S.170, 60-13-85 | 6.6-7.3m | |
| H2D | 459, S.172, 60-13-119 | 6.6-7.3m | |
| H2D | 488, S.191, 60-13-122 | 7.6-7.8m | |
| H2D | 498, S.196A, 60-13-86 | 7.8-8.3m | |
| M2D | 486, S.189, 60-13-90 | 7.6-7.8m | |
| M2D | 487, S.190, 60-13-91 | 7.6-7.8m | |
| M2D | 499, S.197 | 7.8-8.3m | Circles |
| S2DW | 293, S.73, 60-13-94 | 4.45-4.6m | |
| S2DW | 409, S.145, 60-13-48 | 6.5-6.6m | Circles |
| S2DW | 415, S.152, 60-13-56 | 6.5-6.6m | Circles |
| S2DW | 417, S.154, 60-13-54 | 6.5-6.6m | Circles |
| S2DW | 454, S.167, 60-13-95 | 6.6-7.3m | |
| S2DW | 485, S.188, 60-13-96 | 7.6-7.8m | |
| Z2D | 268, S.60, 60-13-110 | 3.5-4.45m | |
| Z2D | 355, S.103, 60-13-113 | 5.3-5.8m | |
| Z2D | 367, S.116, 60-13-98 | 5.3-5.8m | |
| Z2D | 480, S.183, 60-13-99 | 7.3-7.6m | |
| Z2D | 489, S.192, 60-13-100 | 7.6-7.8m | |
| Z2D | 490, S.193, 60-13-55 | 7.6-7.8m | Circles |
| Z2D | 500, S.198, 60-13-51 | 7.8-8.3m | Circles |
| | | | |
| M2U | 294, S.74, 60-13-111 | 4.45-4.6m | |
| | | | |
| H4L | 336, S.90, 60-13-75 | 5.0-5.3m | |
| H4L | 455, S.168, 60-13-79 | 6.6-7.3m | |
| H4L | 482, S.185 | 7.3-7.6m | |
| H4L | 491, S.194, 60-13-50 | 7.6-7.8m | Circles |
| M4L | 335, S.89 | 5.0-5.3m | |
| x4L | 353, S.101, 60-13-76 | 5.3-5.8m | |
| | | | |
| Z4CI | 483, S.186, 60-13-73 | 7.6-7.8m | |
| | | | |
| H2D | 555, S.227, 60-13-88 | 10.7-11.8m | |
| H2D | 563, S.229 | 11.8-13.5m | |
| M2D | 520, S.210, 60-13-92 | 9.0-9.8m | |
| M2D | 522, S.212, 60-13-44 | 9.0-9.8m | Circles |
| Z2D | 507, S.201, 60-13-101 | 8.3-8.8m | |
| Z2D | 514, S.205, 60-13-126 | 8.8-9.0m | |
| Z2D | 531, S.218 | 9.0-10.0m | |
| Z2D | 540, S.222, 60-13-102 | 10.0-10.3m | |
| | | | |
| H2U | 521, S.211, 60-13-87 | 9.0-9.8m | |
| H2U | 530, S.217, 60-13-127 | 9.8-10.0m | |
| | | | |
| M4L pithos | 542, S.224, 60-13-78 | 10.0-10.3m | |
| S4L | 509, S.203, 60-13-77 | 8.3-8.8m | |
| | | | |
| M4C pithos | 523, S.213, 60-13-74 | 9.0-9.8m | |
| Z4CY pithos | 515, S.206 | 8.8-9.0m | |
Here is the actual pool (courtesy of BiblePlaces Dotcom):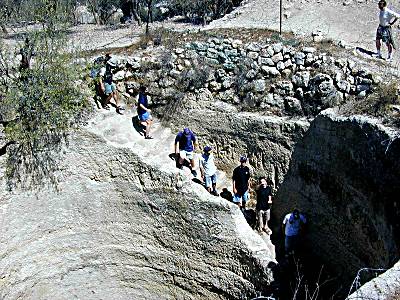 At Gibeon the LORD appeared to Solomon in a dream by night; & God said, "Ask! What shall I give you?"--1Kings 3:5