LMLK Home
Biblical Accounts
NonBiblical Accounts
Theories
HBRN
MMST
SUKE
ZYF
Generic
x (cannot classify)
2-Top
2-Divided
2-Undivided
4-Cursory
4-Lapidarist
Jars
Personal Seals
Incisions
Paleography
Typologies
Corpus
Stratigraphy
Geography
Displays
Publications
Credits
Updates

The first LMLK handles excavated included one whose direct relationship to the LMLK stamps was not fully realized until David Ussishkin's landmark excavations at Lachish when a visitor (Mrs./Dr. Rivka Gonen) happened to find the following H4L handle in 1978 (from TA vol. 10 #2 by David Ussishkin):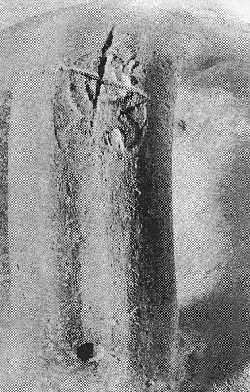 In the late 1950s, James Pritchard excavated a handle from Gibeon with this type of mark incised over a G2T impression, but he didn't publish it (inscription # 918; museum ID# 62-30-1140). Sometimes referred to as a cross or crossed lines, the designation used by this website is "Plus mark" simply to avoid any confusion with Christianity by casual readers (alluded to by Warren in his 1871 publication, "The Recovery of Jerusalem"), & also to facilitate the abbreviation of "P" that others may prefer to use since some scholars think of it as a potter's mark (& "C" is already the abbreviation for Circles).

Plus marks appear on pottery such as otherwise-plain cooking pots not thought of as royal, & this seems to be the opposite of Concentric Circles, which are mostly found on Type 484 jars, although one small cooking pot (field # 341; stamp # 95; museum ID# 62-30-1120) & one giant pithos handle (field # 828; P# 911; museum ID# 62-30-1292) excavated from Gibeon each had 3 concentric circles on them. Varieties of Plus marks have been excavated from sites throughout Israel.

And not all Plus marks were created equal; i.e., not all were carefully incised perpendicularly; most were orthogonal but some were oblique. In the following photos from IEJ vol. 8 #1 (published by The Israel Exploration Society) of five handles excavated at Tell 'Ira, the first two were possibly from Type 484 jars, but the other three were probably from small cooking pots: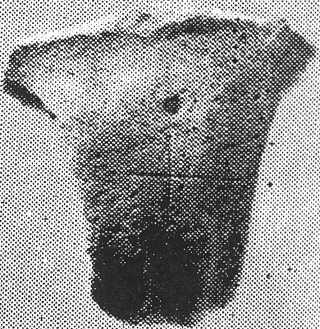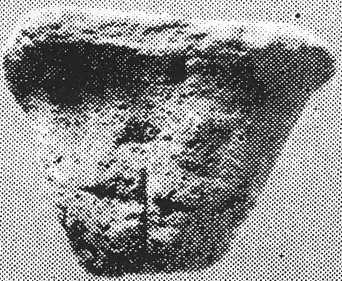 Note: It is highly probable that the more eroded handle above was on the same jar as the similarly eroded handle with the x4L impression from Tell 'Ira.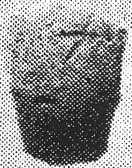 There are two handles in the Michael Welch collection with Plus marks. An orthogonal one (ID# 109) does not have a LMLK impression; an oblique one is over a Z2D stamp (ID# 41).
"Slay utterly old & young, both maids, & little children, & women: but come not near any man upon whom is the mark; & begin at my sanctuary."--Ezekiel 9:6