LMLK Home
Biblical Accounts
NonBiblical Accounts
Theories
HBRN
MMST
SUKE
ZYF
Generic
x (cannot classify)
2-Top
2-Divided
2-Undivided
4-Cursory
4-Lapidarist
Jars
Personal Seals
Incisions
Paleography
Typologies
Corpus
Stratigraphy
Geography
Displays
Publications
Credits
Updates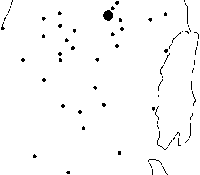 Note: Large dot indicates approximate location of Gibeon (el-Jib). Click here for info about the Great Pool.
General statistics:
25 HBRN
12 MMST
13 SUKE
17 ZYF
07 Generic
18 cannot classify by inscription



76 2-winged
14 4-winged
02 cannot classify by icon



Note--All of these statistics are from firsthand examination of handles & previously unpublished photos displayed below.
| | | | | | |
| --- | --- | --- | --- | --- | --- |
| Specific statistics: | Generic | HBRN | MMST | SUKE | ZYF |
| 2-Winged (Rigid & Top-Register) | 7 | 1 | 0 | 3 | 3 |
| 2-Winged Divided | | 18 | 8 | 7 | 12 |
| 2-Winged Undivided | | 2 | 1 | 0 | 0 |
| 4-Winged Lapidarist | | 4 | 2 | 3 | 0 |
| 4-Winged Cursory (many; all Type 484s) | | 0 | | | 1 |
| 4-Winged Cursory (few; mostly pithoi) | | | 1 | | 1 |
G2T















Note: This impression also appears in "Winery, Defenses, & Soundings at Gibeon" by James B. Pritchard







H2D










































Note: This impression also appears in "Winery, Defenses, & Soundings at Gibeon" by James B. Pritchard













H2T



Note: This impression also appears in "Hebrew Inscriptions and Stamps from Gibeon" by James B. Pritchard

H2U



Note: This impression also appears in "Hebrew Inscriptions and Stamps from Gibeon" by James B. Pritchard



Note: This impression also appears in "Hebrew Inscriptions and Stamps from Gibeon" by James B. Pritchard

H4L



Note: This impression also appears in "Hebrew Inscriptions and Stamps from Gibeon" by James B. Pritchard










M2D






Note: This impression also appears in "Hebrew Inscriptions and Stamps from Gibeon" by James B. Pritchard















Note: This impression also appears in:

"The Ancient Near East in Pictures Relating to the Old Testament (2nd ed. w/ supplement)" by James B. Pritchard
"The Ancient Near East vol. 2" by James B. Pritchard
"Hebrew Inscriptions and Stamps from Gibeon" by James B. Pritchard



Note: This impression also appears in "Hebrew Inscriptions and Stamps from Gibeon" by James B. Pritchard

M2U




M4C



Note: This impression also appears in:

"The Ancient Near East" by James B. Pritchard
"Eretz-Israel vol. 15" by Andre Lemaire
"Gibeon, Where the Sun Stood Still" by James B. Pritchard
"Hebrew Inscriptions and Stamps from Gibeon" by James B. Pritchard

M4L



Note: This impression also appears in "Hebrew Inscriptions and Stamps from Gibeon" by James B. Pritchard




S2DR






Note: This impression also appears in "Hebrew Inscriptions and Stamps from Gibeon" by James B. Pritchard




S2DW



Note: This impression also appears in:

"The Ancient Near East in Pictures Relating to the Old Testament (2nd ed. w/ supplement)" by James B. Pritchard
"The Ancient Near East vol. 2" by James B. Pritchard
"Eretz-Israel vol. 15" by Andre Lemaire
"Hebrew Inscriptions and Stamps from Gibeon" by James B. Pritchard









Note: This impression also appears in "Hebrew Inscriptions and Stamps from Gibeon" by James B. Pritchard










S4L






Note: This impression also appears in "Winery, Defenses, & Soundings at Gibeon" by James B. Pritchard




x2x









Note: Probably an H2D; possibly a Z2D; several random-but-distinct pre-fire marks



Note: Possibly a G2T, M2T, or unique S2x seal; compare to Nasbeh stamp AB16x, I, X67



Note: Probably an H2D; possibly an M2D or M2U; two diagonal incised lines do not appear to be deliberate like Drag marks



Note: Probably an H2D; possibly an M2U



Note: Probably a Z2D but wet-smoothing lines may be distorting another inscription






Note: Probably a Z2D; possibly an M2U






Note: Probably an H2D; possibly a Z2D



Note: Two deep impressions were made; one was at a 4:00 orientation but the other one was probably 2:00 or possibly 8:00






Note: Combination of 2 photos with alternate lighting effects

x4C



Note: Probably a Z4CY; possibly an M4C

x4L



Note: Two problems--wet clay & bottom twist--make it difficult to identify; probably an M4L; possibly a Z4L

xxx



Note: Probably an x2x; possibly an x4x



Note: Probably an x4x; possibly an x2x

Z2D






Note: This impression also appears in:

"The Ancient Near East in Pictures Relating to the Old Testament (2nd ed. w/ supplement)" by James B. Pritchard
"The Ancient Near East" by James B. Pritchard
"Gibeon, Where the Sun Stood Still" by James B. Pritchard
"Hebrew Inscriptions and Stamps from Gibeon" by James B. Pritchard












Note: This impression also appears in "Hebrew Inscriptions and Stamps from Gibeon" by James B. Pritchard






Note: Deliberately drilled hole in the center of the icon



Note: This impression also appears in "Hebrew Inscriptions and Stamps from Gibeon" by James B. Pritchard










Z2T










Z4CI



Note: This impression also appears in "Hebrew Inscriptions and Stamps from Gibeon" by James B. Pritchard

Z4CY



Then Joshua spoke to the LORD . . . & he said in the sight of Israel: "Sun, stand still over Gibeon . . ."--Joshua 10:12