LMLK Home
Biblical Accounts
NonBiblical Accounts
Theories
HBRN
MMST
SUKE
ZYF
Generic
x (cannot classify)
2-Top
2-Divided
2-Undivided
4-Cursory
4-Lapidarist
Jars
Personal Seals
Incisions
Paleography
Typologies
Corpus
Stratigraphy
Geography
Displays
Publications
Credits
Updates

Photo source: G.M.G. for the LMLK Research website
Excavation site: unknown
Excavation date: unknown
Excavation locus: unknown
Storage/display: private collection of Michael Welch
Seal type: none, only Circles
| | | |
| --- | --- | --- |
| Before cleaning: | After cleaning: | Circles highlighted: |
Note that the outermost (blue) circle is about 2mm smaller than the smallest known LMLK circle, while the innermost (green) circle is about 3mm smaller than the smallest known LMLK circle:

The circles were incised ~1.0mm deep & the central dot ~1.5mm deep. Normally the Circle marks display the gray inner ware color because they were incised after firing, which usually produces a different outer-ware color to ~0.5mm deep; however, notice the cross-section slice of the loop's core that shows the outer color of this handle extending ~2.0mm below the surface.

Note: The older photo to the right includes a 1-millimeter scale, but the newer photos below include a 0.01" (10-mil) scale.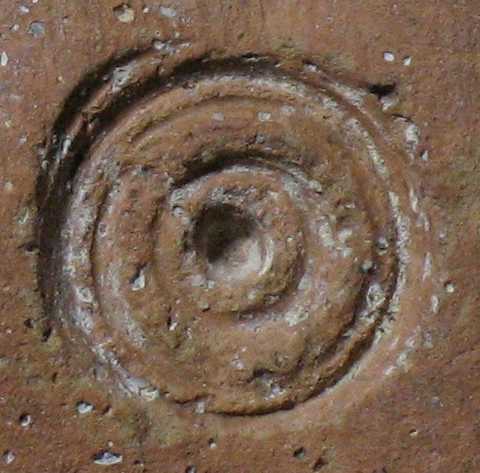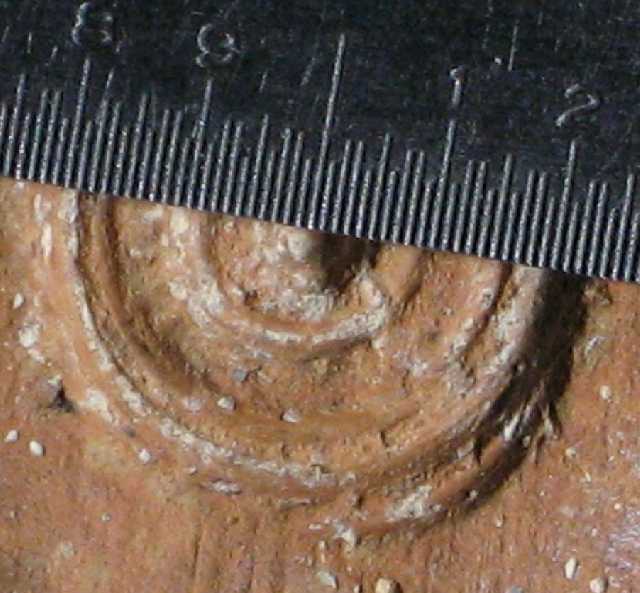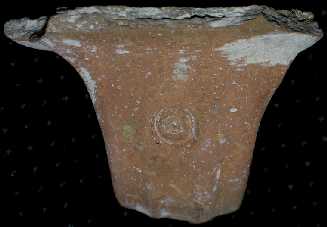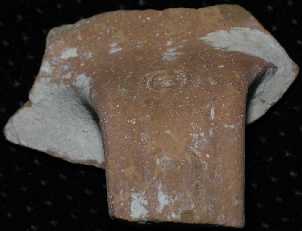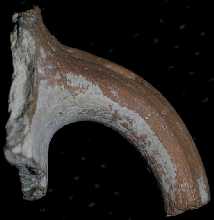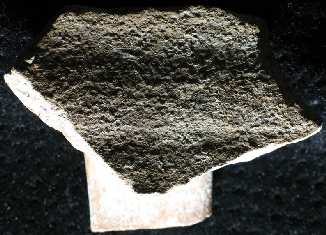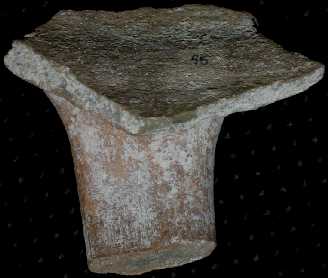 Description by Michael Welch: #91 One-third jar handle. Pottery color is red-brick with white and gray grits throughout and a black core. Some calcium carbonate encrustation remains around the base of the handle and in the crevices of the circles. It appears to have been mostly cleaned off of the seal side with a metal pin type instrument in modern times. Bears no impressions. Bears concentric circles made POSSIBLY BEFORE FIRING or the concentric circles were not completely incised into the handle. There are three impressions surrounding the seal on every side except the top left. These impressions appear to be the normal type finger indentations left by the person doing the stamping of the seal. One is probably a little dug out by a fingernail. Thus, it does appear to be a concentric seal stamp. Also it is possible that the seal was double stamped, thus crowding and overlapping the circles.